Disneyland Paris has provided an update on several major refurbishments which are being conducted during the resort's current closure with the aim to be complete by the 2nd April re-opening.
In response to the global pandemic and French government regulations the resort remains closed since October with current arrangements aiming for a return to guests in the Spring. During this extended downtime however maintenance work has been well underway to improve, maintain and restore beloved elements of the parks and beyond so that everything looks as best as it possibly can be for when the time comes to re-open.
Officially dubbed "The Magic Keepers", these hard working maintenance teams are operating under safe conditions on a number of projects throughout Disneyland Paris. A number of these we have today been provided an update on their progress.
Buzz Lightyear Laser Blast
One of the biggest refurbishment projects in the resort currently is Discoveryland's ever popular Buzz Lightyear Laser Blast. Since closing over a year ago, eagled eyed guests were able to see extensive work done on the exterior of the attraction as scaffolding grew around the entire structure. This was done to re-enforce the ceiling which had become victim to 27 years of harsh Parisian weather conditions, cumulating to a rather infamous leak in 2019.
Structural weakness are not the only thing to see improvements within the dark ride, however. Along with a modernising of lighting and LED effects within the queue and main show all the interactive Zurg targets have been replaced and upgraded, hopefully giving guests a more accurate and reliable gameplay experience when blasting their way through space. Additionally, a new facade has been teased and hinted towards ever since the refurbishment's announcement. Little is known about this new look exterior other than new designs will be found as seen above.
Disney Hotels
Staying on-site at a Disney Hotel may be out of the picture at the moment, and for quite some time for some of the locations, but plenty of work is underway to ensure each and every accommodation is ready for guests be that on re-opening, the 30th Anniversary celebrations or beyond. Of course, the key project here is the on-going Hotel New York – The Art of Marvel which is set to open as the first Disney Hotel themed to the comic book and movie blockbusters. While work steadily continues the rest of the Lake Disney spots are also seeing work done to them.
2018 and 2019 guests will surely remember the extensive work being done to Hotel Sequoia Lodge's facade, a venture which at one point engulfed the entire back entrance of the hotel. Work continues towards completion on that project when one a few of the smaller buildings left to refurbish. Next door at Disney's Newport Bay Club guests will be welcomed back to a newly paved ground outside the hotel's rear entrance along with a fully refurbished lighthouse, now looking as great as it did all the way back in '92.
Front Lot
Another for the list of "you likely remember" refurbishments, those lucky enough to experience Disneyland Paris' brief summer return would have noted the massive undertaking in Walt Disney Studios Park and in particularly Front Lot. Upon entering the second gate guests were immediately shuffled around the iconic Sorcerer Mickey statue as construct teams worked on repaving the entire area. Not only will this once again return the park's welcoming zone to the stunning, Art Deco inspired appearance we love but the new flooring is promised to be 'skid-free'. A major safety plus especially for families.
With thanks to the extended period of closure and work time, the new Front Lot flooring should be entire complete by the time Disneyland Paris and the Studios returns to normal operation.
Indiana Jones and the Temple of Peril
Anyone familiar with the Adventure's Indy rollercoaster will know all too well that – next to its short length but high thrills – ride comfort leaves a lot to be desired as it is one of the roughest journeys one can take while in the resort. Despite efforts to make the experience more comfortable when the track and facade were entire re-built just a few years ago the coaster's age, design and reliance on decades old systems weren't enough to quell the demons of whiplash and headaches.
This latest attempt to improve ride comfort once and for all, maintenance teams are looking at the attraction's mechanical ascent. By modernising how the ride vehicles ascent up the Temple it is hoped this will greatly improve the ride experience for guests as they hurtle along in their two train mine cart. Time will only tell if this is a fruitful venture or not, but I for one can't wait to get back on an expedition with Dr. Jones to find out.
"it's a small world" Fountain
At last, it's happening! Ever since first appearing not long after its initial refurbishment, the escalating crack on "it's a small worlds" globe fountain has been the source of many fans irrates, rants, jokes and even a parody account. Indeed, the visual displeasing fault in the dome lasted for so long many jokingly saw it as a reflection on our own world, vowing that the crack wouldn't be fixed until our own world was.
In a rather poetic way, it seems the jesters got it right. By the time this global health crisis has subsided to a state where Disneyland Paris is safe to visit, guests will be greeted to the joyous site of 'small world's fountain in pristine condition and crack-free… albeit with the outer dome still present and hiding away the beautifully designed dome underneath.
New Parasols
By the time Disneyland Paris welcomes guests again we will likely be in the midst of Springtime with Summer edging ever closer again. With the longer days and warmer weather expected on these months guests will no doubt look to spend more time relaxing outdoors, perhaps with a refreshment at one of the several quick service locations with outside seating.
Two of these locations in particular, Casey's Corner of Main Street and Au Chalet de la Marionette, will usher in the better weather with brand new parasols. These new umbrellas will bring some more colour and life to their respected areas, particularly as both have been themed to their respective restaurants and their colour schemes.
Snow White and the Seven Dwarves
While Disneyland in Anaheim are busy entirely re-theming their take on the classic Snow White dark ride, DLP have instead opted to restore the beloved classic to the best is possible can be with an extensive refurb throughout the interior of the attraction. Not only have all elements within the show building been painted to look as fresh and vibrant as possible, the many blacklight projectors have also been updated to ensure those colours really pop and look better than ever when you venture down the scary woods to escape the evil Old Hag.
That's not all, either. Once complete the team will be traveling next door to give Les Voyages de Pinnochio exactly the same treatment!
Town Square Gazebo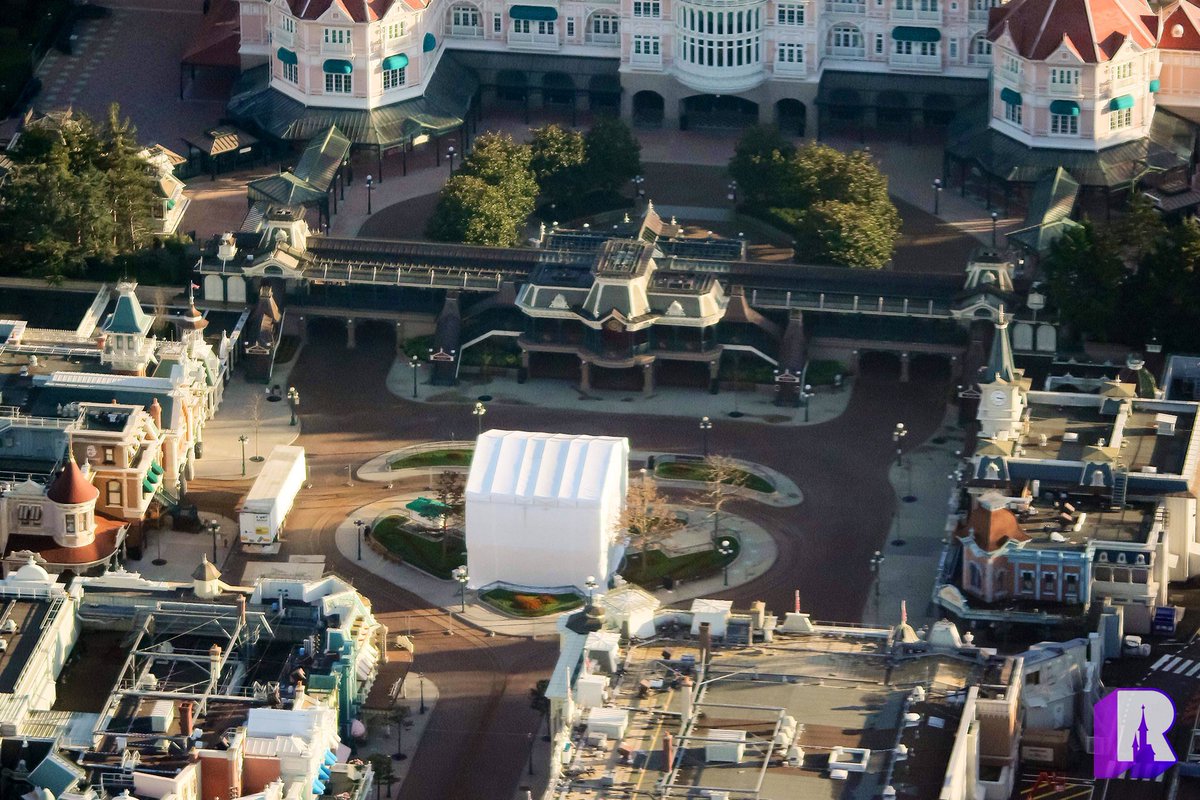 Right in the heart of Main Street U.S.A.'s town square stands the unmistakable sight of the Town Square Gazebo that surely everyone who has visited the resort has posed inside for a beautiful shot with Sleeping Beauty's Castle onlooking behind them. After over 28 years however the old structure was beginning to show its age and was in need of a major refurbing, if not replacing altogether.
That is exactly what has been done during this downtime as the Town Square Gazebo has been replaced with an identical copy. Though it won't look at different from the one we are all familiar with, this newer version has been made out of a durable resin material. This means the structure has been purpose built to surviving and thrive in the harsh weather conditions France and Disneyland Paris experience year in year out; from stone splitting heatwaves to fountain freezing snowstorms.
---
Be sure to follow me on here and over on Twitter for all the latest on these refurbishments and more as and when they happen.